Sandra Ventura
Sandra enrolled in the Court Reporting Institute of Dallas immediately after completing high school and has been working as a court reporter ever since. With over ten years of court reporting experience, you could say that she has been a court reporter all of her adult life. Sandra has been the court reporter of record in a wide variety of cases, including personal injury, Workers' Compensation, coal-mine related litigation, patents, construction, nursing home litigation, employment discrimination, tax disputes, banking, real estate, jail neglect, and medical malpractice.
When not diligently taking your depositions, Sandra enjoys spending time at home by the pool in Bardstown, Kentucky.
Sandra has volunteered as a real-time court reporter for the Hearing Association of Bardstown and served as a volunteer court reporter for the Kentucky Court Reporters Association at State Fair demonstrations.
Sandra is a member of the National Court Reporters Association, the Kentucky Court Reporters Association, and is a licensed court reporter in Tennessee.
Associations: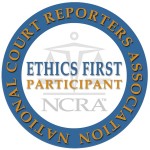 National Court Reporters Association
Kentucky Court Reporters Association
*Tennessee Court Reporters Association
*Licensed in Tennessee