At the end of every deposition our court reporters ask the attorneys whether they want to order a copy of the transcript and, if so, what type of deposition format they want delivered. Many attorneys do not like to be annoyed with these questions because they are focused on the substance of the deposition (we don't blame them). Some do not know that there are different formats and simply request their "usual order" even though they do not have a usual order. That is alright because we just give those attorneys everything — at no extra cost to them. The purpose of this article is to offer some insight into the different types of deposition formats that are available so you can find what works best in your practice. Here is the breakdown as provided by our hard-working Louisville court reporters:
Paper Transcripts.
We will not spend much time on this one. We can deliver your transcript in standard full page format or in a "mini-script" deposition format which has four pages condensed onto each page. As you may have guessed, they are made of paper! While not the optimal delivery format, the good old paperformat is scientifically shown to help you prepare for trial (click here to learn more). We do not charge you for extra for a mini-script so you can have full, mini or both for the same price. If your court reporter is charging you extra for a mini-script, it may be time to raise an eyebrow (or switch to Kentuckiana Court Reporters).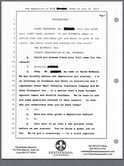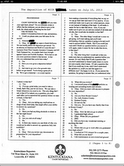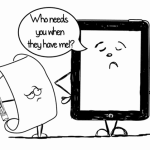 E-Transcripts.
E-Transcript files maintain page and line integrity. In other words, when you open the electronic file, the transcript looks just like the paper transcript. E-transcripts also allow for custom formatting and offer the security of a tamper-proof, electronic signature. This is the optimal format when traveling. You can literally pack all of your deposition transcripts onto you iPhone the next time you travel out of town for a deposition. The good news is that the E-Transcript Viewer is free and can be easily downloaded to your PC, smart-phone or tablet. Unlike other formats, E-Transcript files are also compatible with Westlaw Case Notebook and other popular litigation software.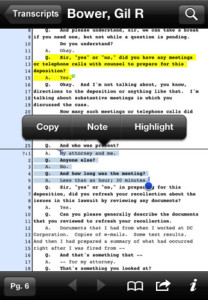 We always try to make things easy for you guys. Simply click here to be directed to the free e-transcript viewer download. As you might have guessed, we do NOT charge you extra to deliver your deposition in an e-transcript format. Just let us know and we will add an e-transcript to your order. If you decide later that you want to add an e-transcript, just give us a call. We will send it to you immediately.
PDFs.
Portable Document Format (PDF) is a file format which can be viewed on any type of computer. It can also be accessed on most smartphones and tablets as long as you have the Adobe Reader installed. Any document can be converted into PDF and the PDF file will look exactly like the original document. All PDFs are fully text searchable and can be saved as an image file for trial presentation. There are drawbacks to PDFs. One common complaint is that PDFs use lower resolution images. While they look great on the screen, they can be blurry and pixelated when printed. You may not want to use this format to print copies. Of course, some devices simply will not open PDFs but most have applications or work-arounds that will help.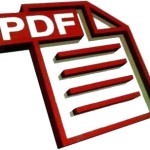 As is widely known, the Federal Courts have chosen PDF/A formats as the preferred format for all electronic filings. Most Federal Courts have made this format a requirement already. See http://www.pacer.gov/announcements/general/pdfa.html. We provide complementary PDF formats of all our depositions. Just let our court reporter know and it will be delivered with your order at no extra charge.
ASCII
ASCII formats are very simple text files that have no preset format. As a result, it can easily be edited into many different word processing programs. ASCII files can be viewed on any platform and cannot be infected with viruses. Again, this is a very raw format and it will appear different on different computers and programs. ASCII is not recommended for the casual user.
If You Can't Choose One then Choose Them All.
The reality is that there are advantages and disadvantages associated with all transcript formats. As an attorney you need to familiarize yourself with each and choose a format that works best for your legal practice. More importantly, choose a court reporter who can provide each type of format. Kentuckiana Court Reporters can put your transcript into all of these formats at no extra charge. Order PDF files for easy federal filing while also ordering an e-Transcript for easy viewing on you smartphone or tablet. Find a solution that fits your needs and do not be gouged for an easy formatting solution.
For more information about the transcript formats available, call Ryan Adkins in our Louisville court reporting office at 502-589-2273.
Kentuckiana Court Reporters
730 West Main Street, Louisville, KY 40202 | 710 East Main Street, Lexington, KY 40502
502-589-2273
schedule@kentuckianareporters.com