Kentuckiana Court Reporters is proud to serve all of Kentucky and the surrounding region but this post is going to focus on why we believe that we are the best option for Louisville court reporters. As a consumer, you have a lot of choices and it is sometimes difficult to understand the many distinctions that exist among Louisville court reporters. For example, most of the web pages that pop up on a Google search for "Louisville court reporters" claim to have conference rooms, nationwide scheduling, video conferencing and/or "a firm" of court reporters. The issue should become whether these claims are true and, if they are not, why are the claims being made?
Louisville Court Reporters with Conference Rooms.
The point of this post is not to disparage Louisville court reporters who do not have conference rooms. Instead, we are questioning why some Louisville court reporters misrepresent their office space and potentially increase your litigation costs in the process. Take for example a website which we will call "AndAssociates". This Louisville court reporter's website claims to have a conference room located in the Normandy Building, 101 North Seventh Street, Louisville, KY 40202. We did not find any pictures of conference rooms on their website (they may be there but we did not find them). In any event, the 101 North Seventh Street address is listed online as a "Renaissance Business Center". Again, it appears that unwary attorneys may be getting a third-party conference room when scheduling with this particular Louisville court reporter. Our concern is that the use of such business centers likely means passed-on-costs to attorneys and their clients. Ask about these fees up-front. When we incur rental charges for locations outside of our offices we either absorb the fees or tell our client up-front about what they should expect.
At Kentuckiana Court Reporters, we have actual conference rooms available in our office. You can use them at no charge whatsoever. The next time you Google for Louisville court reporters with conference rooms, be sure you are getting the services that are represented.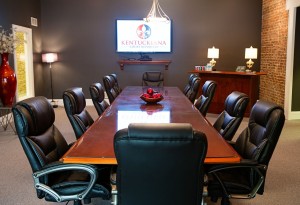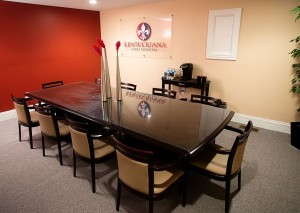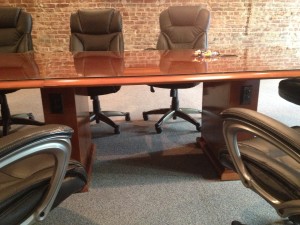 Louisville Court Reporters and Video Conferencing.
Video conference centers can save attorneys a lot of time and money. When choosing a Louisville court reporter, attorneys may want one that offers videoconferencing to cut back on the amount they travel for depositions. Instead of flying to California, attorneys can use our video conference center at no charge when scheduling our Louisville court reporters. It appears that some competitors are more honest when it comes to video conferencing. For example, Taylor claims to have a "network of providers to book a videoconference room". Well, it is good to be able to Google search for video conference rooms but how does that help attorneys? Surely, anyone can just Google or open a phone book. Kentuckiana Reporters has built-in video conferencing. Why contact another agency who may just end up calling us anyway? Cut out the middleman and call Kentuckiana when you need video conferencing and Louisville court reporters.
Another group of Louisville court reporters lists video conferencing as an option with this picture of their video conference center: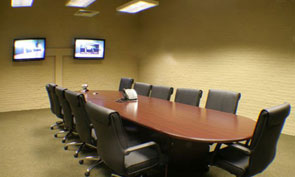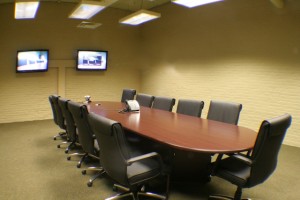 Can you see any differences in the video conference rooms pictured above? We can't either. The picture on the left comes from a Louisville court reporter's website while the one on the right comes from the Museum District Business Center. Again, there is nothing wrong with using business centers to host your depositions. However, if the extra cost of these third-party facilities are being passed onto attorneys or even up-charged for attorneys, then that is problematic.
If you are looking for Louisville court reporters who provide conference rooms, deposition suites and video conferencing then look no farther than Kentuckiana Court Reporters. We have taken the time to build a beautiful and comfortable conference center on Main Street in Louisville, Kentucky. There is no charge to use our facilities when scheduling our Louisville court reporters. Do not settle for the first thing you see on Google. Take the time to make an educated decision about choosing a Louisville court reporter and look past the recycled pictures.
Louisville Court Reporting Firms.
Many Louisville court reporters' webpages claim to be a part of a firm or a "state-of-the-art court reporting agency". The sites are littered with references to multiple offices, services in numerous cities and nationwide coverage. The odd thing is that, with a few exceptions, you cannot find any pictures of actual court reporters on their websites. Some of these "firms" seem to actually consist of one or two people. Again, some attorneys prefer court reporters who are actually solo practitioners. The problem arises when you are handling a complex case and need the full support of an actual court reporting staff. Our staff of Louisville court reporters are available 24 hours a day to schedule last minute depositions, reformat rush transcripts, track down exhibits and generally solve all the little problems that come with litigation. If, on the other hand, you are relying on a "firm" of one person, there may not be anyone available to take your call. Again, we encourage to look past the title and look for the pictures. If you cannot find any associates, it may be because there are not any. Know the real capabilities of the court reporting firm you are considering and then make a choice that is the best fit for you.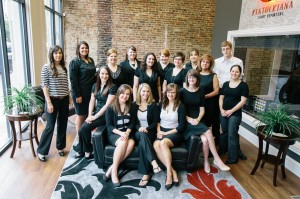 If you are looking for Louisville court reporters who can provide a full-time administrative staff, complimentary depositions suits and comfortable video conferencing, then look no farther. Kentuckiana Court Reporters is your one-stop solution for all of your Louisville court reporting needs.
[br]
Kentuckiana Court Reporters
730 West Main Street, Louisville, KY 40202 | 710 East Main Street, Lexington, KY 40502
502-589-2273
schedule@kentuckianareporters.com