The Kentuckiana Court Reporters Difference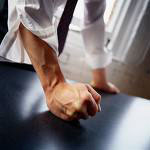 It's easy to say that we specialize in quality, service, and reliable technology — most court reporting agencies should strive for those basic fundamentals. But those building blocks of quality are not what set us apart, it is our commitment to the constant application of standards of professional practice. Kentuckiana Court Reporters delivers every transcript in a standard double-proofed format that saves our clients time and money.
Our Production Department ensures that all of your transcripts are accurate and all your exhibits are scanned for electronic delivery. We also save all of our transcripts and video to both a traditional server and a cloud server so that your data is available in perpetuity. We continue to set the standard by which others are compared.
1. Standardized Transcripts
A transcript is a transcript, right? Not when it's a Kentuckiana transcript. At Kentuckiana Court Reporters we deliver every deposition in one consistent, quality format. All of our standard services are provided at no additional charge to you. We have the lowest per page rate in the region while delivering the most services.
Every Transcript Includes:
Full Transcript with Word Index, Securely Bound
Condensed Transcript with Word Index
Color picture of every witness on title page of your deposition
Electronic transcript delivery within seven business days of your deposition
Ptx files for viewing on iPads, Tablets and Mobile devices
Trial Director, Summation, Sanction files are free upon request
"Our constant striving to stay on the cutting edge of new technology has allowed us to bring new products and services to our clients that far out perform our competitors." For example, it is now becoming an industry standard to receive an E-Transcript® with your deposition transcript, but Kentuckiana goes one step further. With every transcript, Kentuckiana offers a Trial Director, Summation & Sanction file allowing your legal team to easily drag and drop your synchronized file into your litigation software of choice. We have been leaders in implementing digital reporting, live deposition streaming, transcripts for your tablets and smartphones, cloud storage and synchronization and much more.
We know that you don't have time to struggle with complicated, unfamiliar technology, so we have taken great pains to ensure that our technology is not only impressive, but also simple to use and extremely reliable. We also have in-house litigation support staff providing complimentary training and available to answer any questions you may have.
2. Centralized Scheduling
Online or on the phone, you can schedule single or multiple depositions anywhere in the country — all from one company. Simply call 502.589.2273 to schedule any service, anytime, anywhere. Our calendar coordinators are available 24/7/365 to assist you.
When scheduling a deposition, you will receive a confirmation email containing the information as it has been entered into our system. The day before the deposition, we will call to confirm one more time to make sure everyone is on the same page.
3. Full Service
Are you able to "reach" your court reporter on demand? Do you have to leave a message on her machine because she's at another deposition and doesn't have an office staff? What if you need something and you need it now?! You may say, well, she checks her messages at breaks and returns my calls. But what if your need can't wait until her deposition is over? What if something needs to be filed by the end of the day? You need a full service firm like Kentuckiana Court Reporters!
Our full-time staff of court reporters and videographers are available for reporting assignments immediately, upon the client's request, with total transcript retention, case management, and quality control of a secured repository that you can access 24 hours a day.
Last but not least, we've found the best way possible to help organize and maintain our clients' data in one easy-to-access location. With our secure on-line document repository, we centralize, organize, and store all of our Clients' data – one central point of contact that gives you instant access to a complete archive of all your important information – today, tomorrow, or whenever you need it.
At Kentuckiana Court Reporters, we are changing the way you think about depositions, litigation support and court reporting services. We've made everything streamlined, centralized and standardized. That's the evolution of deposition management. Please contact us to find out how we can help you meet your court reporting and video needs today and to experience the Kentuckiana Difference today! When you need Louisville court reporters, call Kentuckiana Court Reporters.
[br]
Louisville Court Reporters | Lexington Court Reporters | Florence Court Reporters
Cincinnati Court Reporters | London Court Reporters