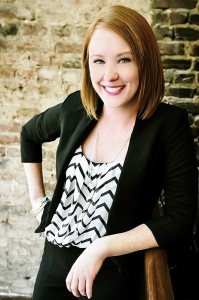 Tiffany Coogle is an experienced court reporter who has worked out of our Louisville, Kentucky office for over a year. As a court reporter, Tiffany has experience with a wide variety of cases including medical malpractice, personal injury, Workers' Compensation, family law, contract disputes, coal mine negligence, nursing home litigation and many other types of litigation. She frequently handles EUOs around the state.
Even though Tiffany is based out of our Louisville office she regularly travels across the state to places like Hazard, Paducah, Lexington, Pikeville, Hopkinsville and many others. Traveling and meeting new clients is Tiffany's favorite part of the job.
Like all of our court reporters, Tiffany takes depositions on a daily basis. Whereas most court reporters may only take two or three depositions per week, our standardized production system allows our court reporters to stay in the field every day. In short, court reporters like Tiffany spend almost all of their time working directly with attorneys and experiencing the many unique situations that can arise during litigation. Whatever problem or scenario that may arise at your deposition, you can be confident that Tiffany has successfully dealt with a similar situation in the past.
When she is not taking depositions, Tiffany's other passion is theater. She has been acting and modeling for years, including features on billboard campaigns for Cellular One and Bacon's (old school Louisville). She has also been featured on the cover of Velocity twice, an Austrailian Horse gambling campaign, Kroger, Maker's Mark, Fourth Street Live, and David's Bridal. She loves cooking and trying new restaurants and is a bit of a homebody. Her perfect day is spending time with her daughter and cooking a great meal.
Kentuckiana Court Reporters
730 West Main Street, Louisville, KY 40202 | 710 East Main Street, Lexington, KY 40502
502-589-2273
schedule@kentuckianareporters.com
Court Reporters Louisville KY | Court Reporters London KY | Cincinnati Court Reporters  | London KY Court Reporters |
Indianapolis Court Reporters | Lexington KY Court Reporters